How To Setup and Use Docker on CentOS 7
Posted: Sun Jun 16, 2019 5:09 pm
Introduction
Docker is an application that makes it simple and easy to run application processes in a container, which are like virtual machines, only more portable, more resource-friendly, and more dependent on the host operating system. For a detailed introduction to the different components of a Docker container, check out The Docker Ecosystem: An Introduction to Common Components.
There are two methods for installing Docker on CentOS 7. One method involves installing it on an existing installation of the operating system. The other involves spinning up a server with a tool called Docker Machine that auto-installs Docker on it.
In this tutorial, you'll learn how to install and use it on an existing installation of CentOS 7.
Prerequisites
64-bit CentOS 7 VPS or Dedicated
Non-root user with sudo privileges.
Note: Docker requires a 64-bit version of CentOS 7 as well as a kernel version equal to or greater than 3.10.
All the commands in this tutorial should be run as a non-root user. If root access is required for the command, it will be preceded by sudo.
Step 1 — Installing Docker
The Docker installation package available in the official CentOS 7 repository may not be the latest version. To get the latest and greatest version, install Docker from the official Docker repository. This section shows you how to do just that.
But first, let's update the package database:
Step 2 — Executing Docker Command Without Sudo (Optional)
By default, running the docker command requires root privileges — that is, you have to prefix the command with sudo. It can also be run by a user in the docker group, which is automatically created during the installation of Docker. If you attempt to run the docker command without prefixing it with sudo or without being in the docker group, you'll get an output like this:
If you need to add a user to the docker group that you're not logged in as, declare that username explicitly using:
Step 3 — Using the Docker Command
With Docker installed and working, now's the time to become familiar with the command line utility. Using docker consists of passing it a chain of options and subcommands followed by arguments. The syntax takes this form:
Step 4 — Working with Docker Images
Docker containers are run from Docker images. By default, it pulls these images from Docker Hub, a Docker registry managed by Docker, the company behind the Docker project. Anybody can build and host their Docker images on Docker Hub, so most applications and Linux distributions you'll need to run Docker containers have images that are hosted on Docker Hub.
To check whether you can access and download images from Docker Hub, type:
Step 5 — Running a Docker Container
The hello-world container you ran in the previous step is an example of a container that runs and exits, after emitting a test message. Containers, however, can be much more useful than that, and they can be interactive. After all, they are similar to virtual machines, only more resource-friendly.
As an example, let's run a container using the latest image of CentOS. The combination of the -i and -t switches gives you interactive shell access into the container:
Now you may run any command inside the container. For example, let's install MariaDB server in the running container. No need to prefix any command with sudo, because you're operating inside the container with root privileges:
Step 6 — Committing Changes in a Container to a Docker Image
When you start up a Docker image, you can create, modify, and delete files just like you can with a virtual machine. The changes that you make will only apply to that container. You can start and stop it, but once you destroy it with the docker rm command, the changes will be lost for good.
This section shows you how to save the state of a container as a new Docker image.
After installing MariaDB server inside the CentOS container, you now have a container running off an image, but the container is different from the image you used to create it.
To save the state of the container as a new image, first exit from it:
After that operation has completed, listing the Docker images now on your computer should show the new image, as well as the old one that it was derived from:
Step 7 — Listing Docker Containers
After using Docker for a while, you'll have many active (running) and inactive containers on your computer. To view the active ones, use:
Step 8 — Pushing Docker Images to a Docker Repository
The next logical step after creating a new image from an existing image is to share it with a select few of your friends, the whole world on Docker Hub, or other Docker registry that you have access to. To push an image to
Docker Hub
or any other Docker registry, you must have an account there.
This section shows you how to push a Docker image to Docker Hub.
To create an account on Docker Hub, register at Docker Hub. Afterwards, to push your image, first log into Docker Hub. You'll be prompted to authenticate: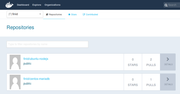 If a push attempt results in an error of this sort, then you likely did not log in:
Conclusion
There's a whole lot more to Docker than has been given in this article, but this should be enough to getting you started working with it on CentOS 7. Like most open source projects, Docker is built from a fast-developing codebase, so make a habit of visiting the project's blog page for the latest information.